Of rain, Nusrat Fateh Ali Khan and PCOs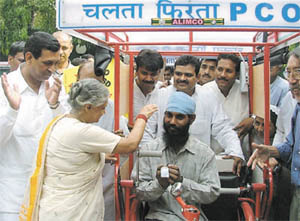 Out here in Arlington, VA, the dogwood's been out for about two weeks now and yet as I sit here today, I can see the light snowshower from my window. For some reason, I've had India - the colors, the moods, the sounds, the people, the perspectives - spinning through my head today. So, I inserted one of the discs from my Ustaad Nusrat Fateh Ali Khan's qawalli collection into the player, poured a bourbon and let the mood sink in.
Three years isn't that long a time if one thinks about it, yet, sometimes it seems like a long time and college and school in India seems so far behind. I remember strange things from college and even stranger ones from school and then there are those that I could never forget - like the rain...there are few feelings that compare to the elation, the joy that rain brings in Punjab. From the sound of the drops on tin roofs or the excited banter of children gambolling in the rain or the dull monotonous beating of the drops against the cabin windows in Larji, rain enchants, fascinates and mesmerizes people in that part of the world.
...zindagi bhar kay shikvay gilay thay bahutwaqt itna kahaan thaa kay dohraatey humek hichkee mein keh daalee sub daastaanhum ney kissay ko is taraah mukhtasar kar liya...
The last time I was in India, I just couldn't stop being amazed at the number of PCOs at every corner of every town, every village in India. If there was a corner on a street that was vacant, there was a PCO there. One could talk about technology or the telecom revolution...what I was looking at was a testimony to our fundamental need to communicate. These millions and millions of little shacks connecting the aspirations, dreams, joys and sorrows of a billion people - in a lot of ways the PCO changed India more than anything else. I wonder if the mobile phone will ever do what the PCOs did to India.